Time Service Demonstrator
The Times services developed in the frame of DEMETRA and the future ones are provided thanks to the Time Service Demonstrator (TSD), an open Architecture that relies on the European GNSS use, GALILEO.
Description
The demonstrator is designed in the scope of having a full operative architecture for the Services delivery to final end users.
It is composed of two infrastructures as shown in the above figure:
The Time Service Infrastructures (TSI) is in charge of the specific functions and corresponds to the nine services to be developed in the frame of DEMETRA. Each service is composed of a Time Signal Generator (TSG), a Service Data Handling (SDH) and a User Terminal(s) (UT). More information about each service in the Time Services section.
The Core Infrastructure (CI) is the hosting structure which provides common signals and services to the TSI and the final users. CI is composed of three main facilities:
Time Reference Facility (TRF)
Service Provision Facility (SPF)
Service Monitoring Facility (SMF)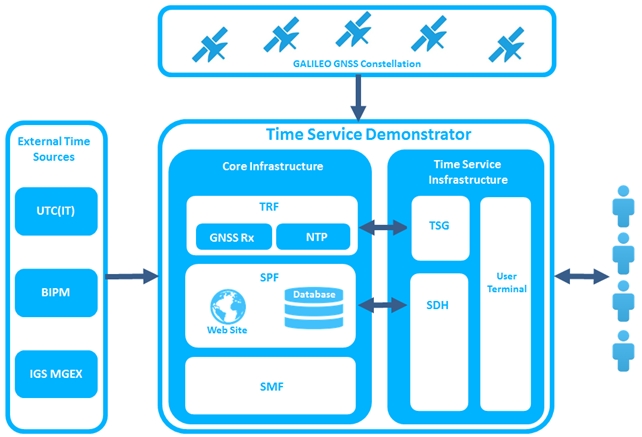 The Time Service Demonstrator relies also on the GALILEO GNSS use and also external servers as International Institutes from which reference data are retrieved. The use of other external components depends of the services.
The overall demonstrator will be installed in Torino at the INRIM laboratories, including the User Terminals during the closed loop validation campaign. In the next end-to-end validation campaign, the User Terminals will be installed in user premises.
Core Service Details
Version: 02.05
Company: Thales Alenia Space France (TAS-F)
Address: 26 Avenue Jean François Champollion, 31100 Toulouse, France.
Contact with the company: email us