Time Monitoring & Steering
Remote monitoring of atomic clocks and information for steering.
Description
This Service consists in monitoring the user atomic clock or time scale in near real time at the nanosecond level, alerting the users about any abnormal phase or frequency jump of their clock or time scale. The system will be based on the Precise Point Positioning using the GNSS collected by the user receiver driven by its atomic clock. A set of indicators about the user GNSS station well-functioning will also be provided. The service will additionally provide to the user daily information for the steering of its atomic clock or time scale to be aligned with UTC, as well as a prediction of the difference between its time scale and UTC during the next days.
Features and benefits
Knowledge of the synchronization difference between your atomic clock and the reference
Notification on clock jump or frequency jump of your time scale
Visualization of the performances of your GNSS station in terms of multipath, visibility, etc…
Reception of a daily parameter to steer your timescale on the reference and a prediction of the difference between your timescale and UTC if you apply this steering
How it works
The user sends hourly RINEX files via ftp. Each hour a PPP clock solution of the last 24h is computed for the user clock, for the TRF reference clock, and for the some other time laboratory having a realization of UTC named UTC(k). The synchronization differences between the user clock and the TRF reference are plotted on a web page and updated hourly. The webpage also displays the user GNSS station performances. Daily files are sent to the user via ftp, containing the PPP solutions and the steering parameters. Additionally an alarm is sent by email in case a clock or frequency jump is detected in the user clock solution.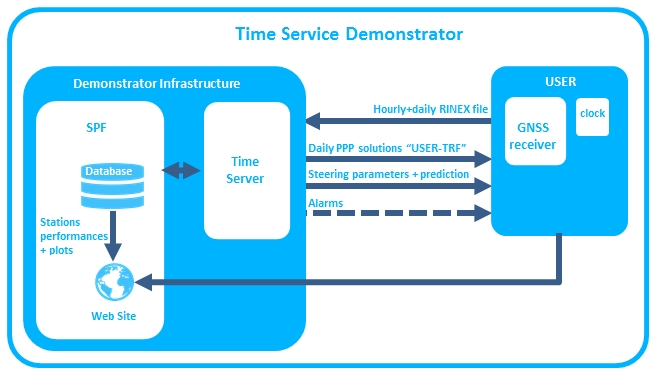 Time Service Details
Version: 1.0
Company: Royal Observatory of Belgium & INRIM
Address: Avenue Circulaire, 3 – B-1180 Brussels, Belgium.
Contact with the company: email us
Website: www.oma.be